Greg Steiner, President
Kaman Aerospace Group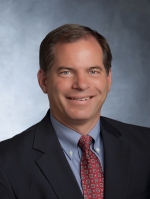 Gregory L. Steiner, 54, is President of Kaman Corporation's Aerospace Group. He is responsible for Kaman's five aerospace businesses with sales of more than $600 million and more than 2100 employees. The businesses are located in Connecticut, Florida, Kansas, Washington, the United Kingdom, Mexico, and Germany. Greg reports to Neal J. Keating, Chairman, President and Chief Executive Officer of Kaman.
Prior to joining Kaman, Greg was vice president, systems for GE Aviation Systems in Santa Ana, California. At GE he was responsible for the company's systems integration businesses and was the Executive Program Manager for the Boeing 787 Dreamliner. He was previously vice president and general manager, military mission systems. Greg also had a seventeen-year career with Rockwell Collins, Inc. serving in a number of progressively responsible positions in program management, corporate development, strategy, and general management. His last assignment was vice president and general manager of passenger systems. Before joining Rockwell, he was with Texas Instruments in Attleboro, Massachusetts for five years where he started his corporate career with assignments in manufacturing, product line management, and engineering.

A native of Bristol, Rhode Island, Mr. Steiner received his bachelor's degree in engineering and economics from Union College in Schenectady, New York in 1979 and his MBA from the University of Iowa in 1994. He attended US Air force Officer Training School and Undergraduate Pilot Training from 1979-1981, graduating with honors from both programs. He was an operational pilot in the U.S. Air Force/ Reserves with a fighter/attack/reconnaissance rating, attaining the rank of Captain. He holds FAA commercial, multi-engine, instrument, and turbine licenses.

Greg currently resides in Avon, Connecticut with his partner, Erika Turner, who is CFO of Lydall, Inc in Manchester, CT. He has four children, Paul (25), Margaret (23), Ramsey (20), and Madeline (20).